NWTRCC has been keeping busy this spring and we have more events just around the corner. Hopefully, you can participate in some of these events and share them with others…
Social Media Workshop (Saturday March 18 at 2p Eastern / 11a Pacific)
This session will be an introduction to using social media as a resistance tool. Included on the agenda is using QR codes for Tax Day, using Twitter and hashtags, Instagram; reposting NWTRCC material online; creating social media accounts; utilizing Facebook Live or Instagram Live to report from a protest, and more. The session will be very hands-on. Register here.
Tax Day is Tuesday April 18, 2023
NWTRCC promotes tax day actions every year, collecting a list of actions around the US and sending out a press release widely in early April and posting reports on our website and on our Facebook page.
Would you like to do something different for Tax Day this year? We have a list of Action ideas on our website. We are asking folks to take a picture or video of themselves with their Tax Day signs and post these images on social media. When posting a picture or graphic, please let folks know they can find out more info about WTR at nwtrcc.org. Also, add "#WarTaxResistance or #NWTRCC" to your post. Writing these "hashtags" with your message will let that anyone can find your post on Facebook or Twitter by searching "#WarTaxResistance" or "#NWTRCC."
Share your Tax Day plans here.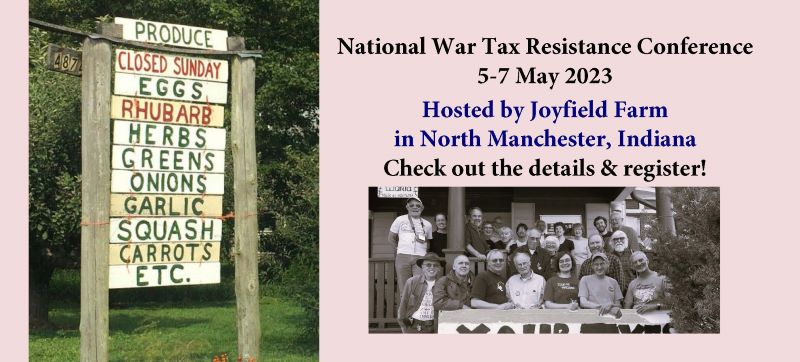 May Meeting will be In-Person (5-7 May 2023)
After three years of our twice yearly conferences being only on Zoom, NWTRCC will have an in-person conference the first weekend of May. As has been the case for years, there will be opportunities for people to participate in parts of the conference online.
The conference is being hosted by Joyfield Farm (4874 E 1400 N, North Manchester, Indiana 46962). Joyfield Farm is an organic farm in north-central Indiana, about an hour west of Fort Wayne. The farm has WiFi, which will allow certain sessions to be online, including our Sunday business meeting. The setting will be slightly more rustic than usual with amenities such as outhouses. There is plenty of camping space, including inside of a large barn. Some families in the area will also host folks and provide beds, but these will be limited.
The details for the sessions are still being worked out, but the Friday evening session will be hosted by the Peace Studies Institute at Manchester University, which offered the first undergraduate Peace Studies program in the world in 1948.
Whether you plan on attending the in person or on Zoom, register here.
~Post by Lincoln Rice